African Americans may feel besieged much of the time, but nothing like the Kingdom of Harlem. As Umar Rashid recalls, it had its moment of glory long ago, but its triumph and tragedy have left their mark on black history ever since.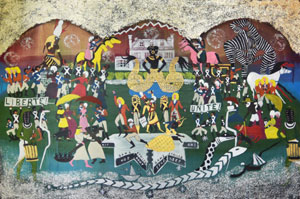 And no wonder, for Rashid has made it all up out of currents of actual history. If anyone can keep them all straight, even him, it would surprise me, but no matter. His imagined history depends on fantastical leaps in time and place, to make the point that black lives do not reduce to any one story. Only in that way can they reclaim their histories as their own.
If this sounds messy, he calls his show "Messier Objects," at Johannes Vogt through March 30. The title puns on a catalog of the night sky by Charles Messier in 1771. Messier went hunting for comets but realized that he was looking at something else entirely—what astronomers today would call galaxies, clusters, and nebulae. They are not just single stars, and he found more than a hundred even then. Rashid, too, has his stars, in the king and queen of Harlem, the commander of their armies, and the Furies that hounded them to an unhappy ending. Like astronomy, it is a messy, flashy affair.
The show turns on the dissolution of an empire in Messier's lifetime—one piece of which became the kingdom, "when laws were stern and justice stood." Where exactly? The story has something to do with the nation of Frengland, wherever that is. Yet it draws in ancient Egypt, the destruction of Troy, Dutch Guiana, colonial America, and a New Thebes. The kingdom had its west bank, but on the East River in Novum Eboracum, or Rashid's New York. His paintings amount to a catalog in themselves.
The show breaks down more or less neatly into distinct series that, together, form an installation. Small boats of carved wood carry icons out of some primitive culture along the baseboard to connect them. Some paintings use color, text, and flattened figures to evoke the Caribbean, the Egypt of Cleopatra and the pharaohs, and the Harlem Renaissance. Paintings in white on black have the silhouettes of colonial soldiers and still more text, while ink drawings depict the heroes. The color suggests a perpetual celebration of liberté and unité, while the blackness suggests something more tragic and subdued.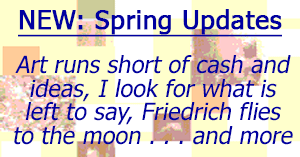 A title may begin in French only to turn to an angry message in English that in no way translates what came before.
The flatness recalls American folk art, as does the perpetual madness, while the portraits are more sophisticated. Still, the larger scenes draw on Jacob Lawrence or Romare Bearden for their echoes of the jazz age—and Florine Stettheimer for their symmetry and celebration. The text takes them closer to diagrams of a conflicted history, like the art world for William Powhida. Rashid also throws in coffee stains for the sepia tones, photocopies for collage, and mica flakes for glitter. He even quotes Michelangelo. They point at once to past and present, as well as to outsider art and the textbooks.
To make a long story short, Harlem began as "a haven for black people within the polarized European, colonial sphere," Rashid explains. "External forces constantly harassed the kingdom . . . until its collapse shortly after the assassination of its leaders." In other words, this is political art for an age of globalization, postmodern jargon intact, but without obvious victims. Collapse came from within, while the boats along the baseboard offer the hope of escape without. The show is a mess, even with the sculpture as connective, but wide ranging and funny. Only that way, it seems to say, can black lives matter.