It is never easy to get to Kennedy Airport—and never easy to deal with security if you are an African American. Next time, you might consider instead traveling by horseback.
Believe it or not, the Federation of Black Cowboys occupies wind-swept stables off Howard Beach. Cattle driving while black? Founded to promote knowledge of "the black West," the federation could hardly have made its home further east.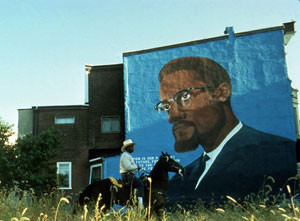 Designed to give its members the autonomy and authority they deserve, it may end up leaving them to white eyes as invisible men.
Yet they are visible, in photographs by Brad Trent—and in "Black Cowboy," at the Studio Museum in Harlem through March 5—and I have appended this to an earlier report on Kerry James Marshall for a longer review and my latest upload. The show may sound like a bad joke or a provocation, and its photos and videos share a wry sense of humor and a true grit. They are not, though, just one-liners. Forget Cleavon Little in Blazing Saddles or the Marlborough Man for Richard Prince. These artists have little interest in popular culture or appropriation. They may not recover much in the way of history either, but they do tackle the stubborn image problem of the black male.
Wall text refers to the old West and to "buffalo soldiers" in and after the Civil War. All six artists, though, stick to the present. Deanna Lawson comes closest to myth making, with her solitary figure on horseback—but as part of her intimate portraits of what she likes to call her family. And Ron Tarver comes closest to comedy in North Philadelphia, where a rider passes beneath a billboard image of Malcolm X and leaves his horse at a playground to indulge in a slam dunk. The rest, though, document actual troops and events. Like Tarver, they also play a cowboy's ideal of freedom against the reality of black America.
Upstairs, the Studio Museum celebrates its collection with a modest look at its first full decade. It takes one back as well to a time before Modernism lost its authority, but also before African American art gained its measure of recognition, assuming it ever has. "Circa 1970" has abstractions by Normal Lewis, Jack Whitten, Al Loving, McArthur Binion, Robert Blackburn, and Sam Gilliam. It also has a body print by David Hammons, a sweeping but empty cape in bronze by Barbara Chase-Riboud, a crucifix by Betye Saar, an effigy in nylons by Senga Nengudi, and a painting of "trash" by Benny Andrews. The mezzanine sticks to politics in the present, with "The Window and the Breaking of the Window"—after a descriptor of black people in text art by William Pope.L. It cannot, though, match the anger and despair of simply reading the news.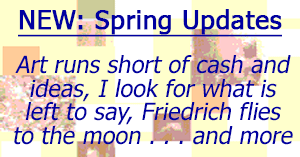 The smaller show downstairs, just outside the gallery recently for sculpture by Richard Hunt (and now on the theme of text art), does more to keep one guessing about black and white. Yes, the Federation on Howard Beach is real, as is the nasty swagger of its riders. Trent discovered them thanks to The Village Voice and photographed them with an eye to Richard Avedon and In the American West. Just as real is the Fletcher Street Urban Riding Club, in South Philly. Mohamed Bourouissa sets his two-channel video in front of posters for the club, which aspires to guide children through urban decay along with horses. He takes nothing away from his subjects, but also nothing away from the incongruity.
The irony only increases in Louisiana, where prisoners from Angola perform their annual rodeo in photos by Chandra McCormick. They can master roping, but not half so much as the system that will return them to maximum security. Most unexpected of all, a black community has its place and its horsemanship in Wildcat, Oklahoma. In a film by Kahlil Joseph, the rodeo descends in slow motion into darkness and specks of artificial light. Bourouissa says that he had thought cowboys were white, like John Wayne. Here they are thoroughly black, but one can barely make out their pride or their color.
Read more, now in a feature-length article on this site.