Kai Althoff would like to make a statement, if only he had more to say. MoMA gives him every opportunity, turning over one of its largest exhibition spaces to his work, with Althoff himself as curator.
Art lies everywhere, through January 22, seemingly at random, much of it piled together or still under wraps. Partitions have fallen away, in favor of whatever divisions might emerge from the artist's tables, easels, and pallets. A coarse wood floor, painted white but well scuffed even before public access, covers the usual one, as if to protect him from himself. Consider it a wise idea.
The two hundred objects look as casually assembled as they are arranged. Figurines have the clumsy air of a child's modeling clay. Paintings approach Paul Gauguin on Quaaludes, German Expressionism without the sharp edges, or simply amateur night. A rug remains half curled up and a balloon heart stuck in an air vent. Antique dolls lie apart from their beds. Discarded furniture, fabrics, and an entire model city in black fill the awkward spaces in between.
Is it a yard sale, a thrift store, a warehouse, or a studio? Is it a retrospective or an installation? For Althoff, they amount to much the same thing. MoMA's Laura Hoptman turns over the press release to an actual artist's statement, but its rambling paragraphs boil down to little more than this: "I cannot choose, but I must." The show's title, "and then leave me to the common swifts" (repeated in German) seems to catch him in mid-thought, but a thought that never quite makes sense.
You may not find a puzzle worth teasing out. Some themes do emerge, though, just as the show's scale attests to bold aspirations—and just as its execution attests to futility. Paintings and photographs show friends hanging out for a lifetime or just for the day. The tormented dolls hint at an unhappy childhood, and the show claims to span much of Althoff's fifty years, although most of it dates from just a few years around the turn of this century. Perhaps he became a celebrity artist only to run out of ideas. Perhaps he had few ideas all along.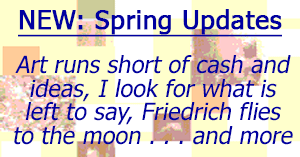 Critics have read a great deal into his work. They have seen inventive installations and a haunting sadness. They have seen memories of Hasidic culture or a bridge between New York and his native Cologne, where he splits his time. Maybe, but one can read practically anything into all this and still lack for meaning. Althoff emerged in the infuriating wave of overblown installations, with some of the biggest. A collaboration with Nick Z., the street artist, only confirmed their macho and their glibness. He later brought his depictions of claustrophobia and high society to the 2012 Whitney Biennial.
Althoff's collecting may recall the legendary 1978 show of "bad painting" at the New Museum, curated by Marcia Tucker. Yet Tucker was aiming another blow against late Modernism, and those days are past. He may recall the provocation of "thrift store art" from Jim Shaw, but Shaw hung anonymous paintings on gallery and museum walls. Althoff has little interest in breaking the boundaries between insider and outsider art, and he has little space for anyone but himself. It will take others to make a statement beyond the artist as brand name. It will take others, too, to stop trashing the gallery and to start poring over the trash.
Read more, now in a feature-length article on this site.