In one of New York's most remote and abandoned corners, Katharina Grosse imagines a house swept away by sunlight, as a project for MoMA PS1. It is an actual house all the same, and it was almost swept away in the darkness of a storm. I have gathered this along with previous reports on summer and fall 2016 shows inside and out, as a longer review and my latest upload.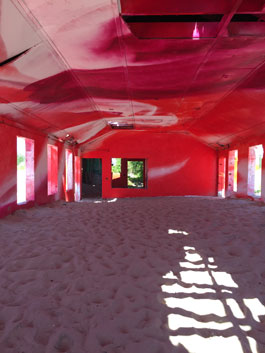 I can never forget leaving my apartment and descending nine stories after Hurricane Sandy, emerging from lack of electricity into the light. I can never forget, too, the many days after, getting to know neighborhoods again in the quiet of shuttered galleries. As I wrote then, I feared most for midlevel galleries and their artists. I feared for those who thought that they were helping one another and even succeeding. Even before I could reach out to those I knew, I could only imagine what they were thinking, assuming that they had time to think about anything other than the inventory of their losses and their art. In a business better known in the popular press for celebrity artists and big money, had they built their house on sand?
Still, for all its show of empathy, that question overlooks something more urgent: some people woke up to find that they had lost everything, because they really had built their house on sand—the kind that burns and gives way beneath one's feet. And Grosse insists on the urgency in calling her summer project Rockaway! She saturates a building in Gateway National Recreation Area in bright red, inside and out. You might see it as drenched in blood, although she wanted to capture a sunset, extending to painted pavement on the ocean side. It stands abandoned and empty but for sand, and it will be demolished soon after the project ends on November 1.
I cannot swear that I would recommend it to anyone not dying to devote hours this wet weekend to a tour of the city's dingiest subway stations and worst neighborhoods. I approached it the long way, by subway to Rockaway Beach in Queens, off Jamaica Bay. One discovers not a beach but a community, very much still standing after the storm. It takes nearly two miles to reach Jacob Riis Park—and a further mile or so along the Atlantic Ocean before that, too, comes to an end at Fort Tilden. Thoroughly lost but with no easy turning back, I eventually found my way across a football field long overrun with weeds, past fences that all but shout keep out, and to three empty buildings near the water. All three rest on sand and are covered with graffiti, but only one is also painted red.
The spray paint leaves swirls of white, the better to evoke a sunset. Yet it has to compete with mixed messages every step of the way. A bus from the subway runs all the way to Fort Tilden, although one would never know it, while the house lies outside the fort's fences. Two horses greeted me at the fort's entrance, but neither was talking. Riis Park has no signs other than to say that one is there.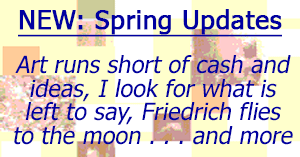 Another sign, right in front of the house, forbids entry, but the work demands it.
The work may look better still in photographs, where the reds deepen and bounce off sunlight on sand. From the outside, the pattern looks less intense and less like a sunset. The nearby buildings and their graffiti offer serious competition as well. As with the house on the Met roof by Cornelia Parker, the reach for theater may even get in the way of the work's message. With its exclamation point, it almost sounds like a Broadway musical, awaiting tourists who will never appear. MoMA's description does little to ground it in climate change—or in the gains and losses of an island community.
Yet the context is real, and it does almost as much as the paint to bring the work alive, between public sculpture and community. It came together for me as I rode a different bus, up Flatbush Avenue into Brooklyn. After the immensity of the Atlantic, I was passing chain stores on the way to Brooklyn College and a very urban community. I could finally bring together the disparate experiences of being lost and found. Thinking further back, I could hope again for galleries and artists. Just do not wait for them to paint the town red.
Read more, now in a feature-length article on this site.